Mattel, Barbie's parent company, launched its Inspiring Women Series in 2018. Today, the tenth doll in the series, that of renowned author, civil rights activist, educator, and poet Dr. Maya Angelou, is available online. Aside from being part of the Inspiring Women Series, Barbie has in the last decade taken the initiative to "spotlight more Black role models."
"Our efforts include a commitment to spotlighting more Black role models who are female, and now, we are introducing a doll that honors Dr. Maya Angelou, author, and activist who used her voice and unique writing style to connect with people and inspire generations," Mattel said in a statement.
The Dr. Angelou doll is styled to perfection holding her iconic memoir, I Know Why the Caged Bird Sings. The floral print floor-length dress with orange undertones and matching headwrap speaks to the style of the late writer and one can actually picture her in the ensemble.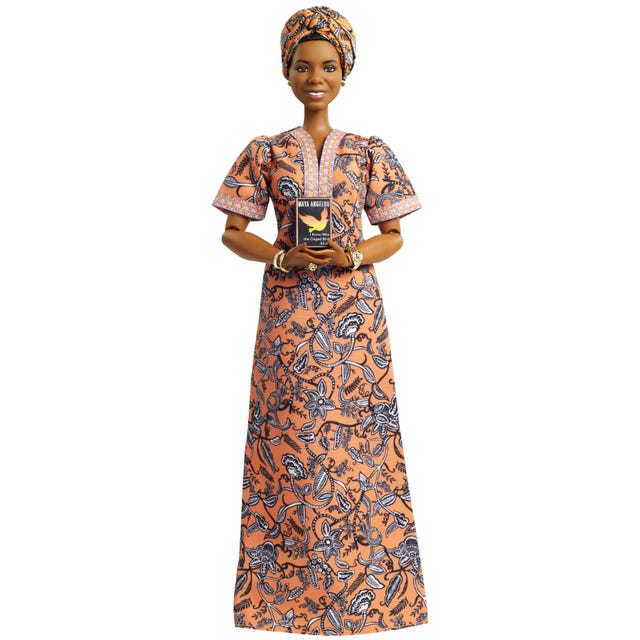 The doll release comes just two weeks before Black History Month and it retails for $29.99 online at Barbie, Amazon, or in stores at Target.
So far, the Inspiring Women series have honored NASA mathematician Katherine Johnson, Amelia Earhart, Frida Kahlo, Rosa Parks, Sally Ride, Billie Jean King, Ella Fitzgerald, Florence Nightingale, and Susan B. Anthony.
All these gallant women, present and past, are "role models who paved the way for generations of girls to dream bigger than ever before," the company said.
In a bid to be more inclusive, Mattel has been creating diverse dolls in different sizes, colors, abilities, and professions. The company recently introduced the gender-neutral doll, the Barbie Fashionistas line, the Barbie Wellness collection, and the Judge Barbie.
"Diversity and inclusion must be the foundation of all that we do. We will continue to stand united in the fight against racism and dedicate resources to directly impact the Black community, such as funding through the Dream Gap Project Fund, to help remove barriers that prevent the next generation from reaching their full potential," the company added.